North

High School




Class of 1969
North High School
Class of 1969

50th Reunion
August 9 - 11, 2019
Our 50th class reunion was great!
Friday night was the meet-and-greet at Jake's City Grille in Plymouth, MN. Half of the restaurant was reserved for the evening and volunteers decorated it with blue and white streamers, pennants, and Polar Bears. Elizabeth (Betsy) Binder greeted everyone and handed out name tags, while the Polar Bear mascot raised school spirit. North Polars filled the room with conversation and laughter while they ate delicious food and drank cold beverages. The party started around 6:30 p.m. and lasted until nearly midnight. A good time was had by all.
Saturday night's banquet was held at Crowne Plaza in Plymouth, MN. It started at the check-in table, where Steve Dahmen and friends from Ascension greeted classmates and guests, handed out name tags, and gave directions to the Viking Lounge. In the lounge, classmates got reacquainted with old friends, made new friends, viewed '69 memorabilia, ate their favorite candies from the '60s, and munched on treats brought from Japan. The memorabilia table was a hit, as was the enlarged photo of Old North. (Classmates stood in front of it for photos, and it looked like they were standing in front of the old school.) During the social hour there was no shortage of reminiscing, laughing, and picture-taking.
Attendees were then seated in the Scandinavian Ballroom for dinner. Volunteers had decorated the tables with blue runners, silver stars, glass cylinders with floating candles, and Polar Bears. The buffet dinner was delicious, the servers efficient, and conversation never died.
The program started with Rae Generous Simonson, who welcomed everyone, followed by Barry Kelner. Barry made a solumn introduction to the memorial video, which showed the names and high school pictures of our deceased classmates. He then gave a speech remembering all those who influenced us during our youth -- parents, teachers, community -- and recognizing the important roles they played in helping us become the adults we are today.
Barry then introduced Ikuma Sadakane, who came from Japan to attend the reunion. His speech was humorous and heartfelt. Ikuma described his first impressions of America, recalled events on the north side that impacted his world view, remembered friends and teachers he learned from, and described the life-long influence North High had on him. He also honored the Carlson family, his hosts for the year, with whom he has remained friends for 50 years. His humor, humility, and grace brought laughter and tears to his audience.
The night ended with mingling and dancing to music of the '60s. And, to the delight of those in the room, Ikuma sang a Japanese song karaoke-style and brought the house down.
The weekend ended with Sunday brunch, where memories were shared, phone numbers exchanged, and good-byes extended. It was the end of a fun weekend but a new beginning for old friendships. The hope is to have a 70th Class Birthday Party in 2021, where we can all get together again.
Thank you to the classmates who made cash donations to help make this reunion the success that it was.
And thank you to the volunteers who donated their time and talents to make this weekend a fun and memorable one for the North High Class of '69.
Marti Berman Sandwick

Elizabeth (Betsy) Binder

Roberta (Bobbi) Bogucki Pesek

Jeanne Botz Brandon

Steve Dahmen

Rae Generous Simonson

Barry Kelner

Berdetta Kendrick Lang

Mark Lahtinen

Guy Laurent

Patti Neale Ruiz

Ikuma Sadakane

Beth Scheunemann

Nancy Swenson Zembal

Richard (Rich) Williams

Deborah Wolinski Nelson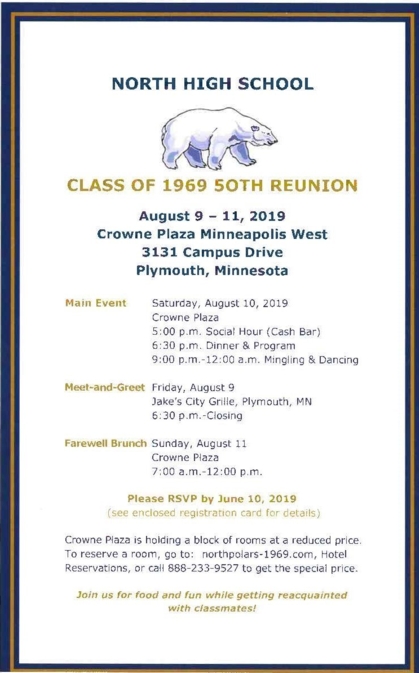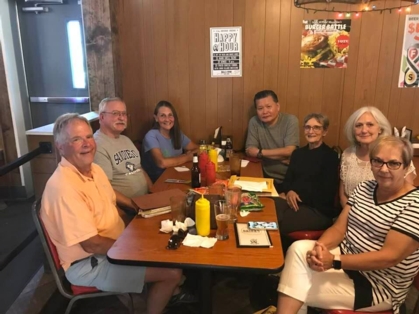 Check out the What's New page!
We're loyal to you, North Side High
We'll wear white and blue, North Side High
We'll back you to stand—'gainst the best in the land
For we know you will stand, North Side High. Ra! Ra!
So follow that ball, North Side High
Go crashing ahead, North Side High
Our team is our fame protector
On, boys for we expect a victory for you North Side High.
Raise that flag to which we'll be true
Fight for North, we're fighting for you
Here we pledge our hearts and hand to dear old North Side High